Getting closer to the customer through immersive behavioral techniques is highly dependent on the moderator's people skills and strategic business sense. Kathy discusses what led to her career as a moderator, and the role a moderator plays in a mixed methodology approach.
I graduated from University of Dayton with a major in communications management, and a minor in marketing and psychology. Those were the perfect degrees for a career as a moderator, even though that type of job wasn't immediately on my radar.
I honed my strategic business sense in pharmaceutical sales and marketing at Johnson & Johnson for ten years. My empathetic listening muscles were also stretched as the mother of three children, and then I was trained formally at the RIVA Training Institute for qualitative moderators.
I'm particularly energized by shopper psychology—digging into people's thought processes and encouraging them to be emotive about their decision-making. These psychological insights are instrumental in guiding a brand team to a strategic growth path.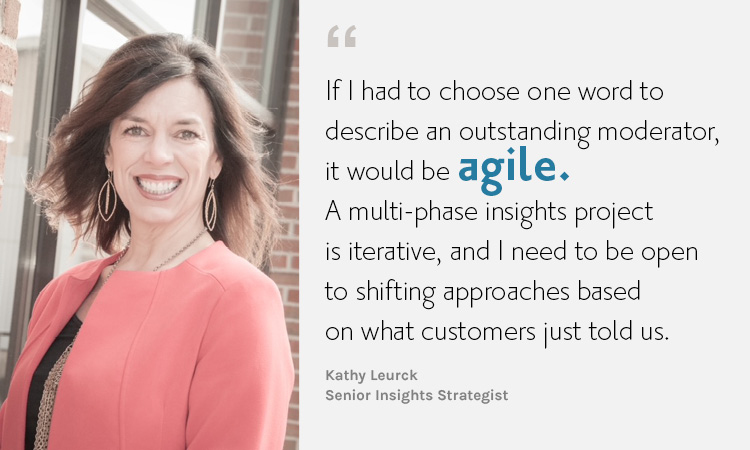 Because of my deep pharmaceutical experience, I do get tapped for projects that require speaking to medical professionals—everyone from cardiologists to physician assistants and nurse practitioners. These people are highly educated and specialized, and it's critical that the moderator demonstrate their credibility by being knowledgeable about the human body and its workings.
My role on the mixed methodology team is to help keep the client needs front and center throughout the project, ensure my qualitative learnings are feeding into the quantitative phases to further the strategic inquiry, and participate in problem-solving with the client. The Radius team prides itself on fostering a seamless approach and experience for the client.
If I had to choose one word to describe an outstanding moderator, it would be agile. A multi-phase insights project is iterative, and I need to be open to shifting approaches based on what customers just told us.