The moderator serves a significant role in a Mixed Methodology research project, connecting with the client from the initial stages of research to understand project objectives, and bringing the voice of the customer to life before, during, and/or after the quantitative phases by getting to the "why" behind the "what". The unique blend of skills they bring helps the Radius team provide recommendations backed by deep research and understanding of the customer voice. Laura Hoffman describes her role in this process. 
I was pursuing a degree in integrated strategic communications with a minor in marketing at the University of Kentucky when I was asked to lead a focus group as part of a research class I was taking. I didn't even know at the time that a career path as a moderator was an option, but I'll never forget the feeling I experienced leading that group – I loved it. 
As I launched my career, I first worked for an agency supporting the pharmaceutical industry. During the eight years I spent in this role, I sharpened my strategic business, research, and communications skills. I also picked up critical knowledge about the pharmaceutical industry and built my healthcare knowledge base.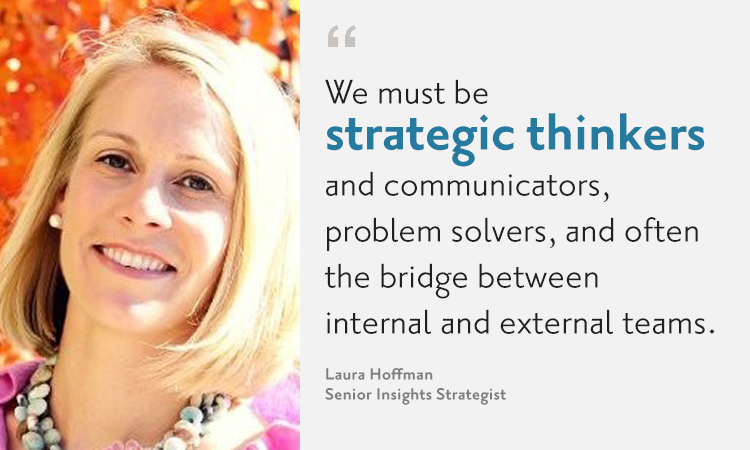 Blending data with the voice of the customer
Recalling my experience in college, I decided to transition my career to focus on research. I enrolled at the RIVA Training Institute where I gained valuable knowledge and moderator skills. I found a way to blend my love of guiding conversations with people from all walks of life with deep research to help our clients make well-informed business decisions. 
A critical element of successful qualitative research begins with recognizing our clients' individual needs and the project objectives. My role as moderator is to dig into the quantitative research our team conducts to develop the right approach for the project's qualitative phase. I'll often have multiple conversations with the client and our team leading up to the research and throughout the process to ensure we shape the project to address the client's goals, who we are talking with, and how the client will develop their products or services based on our findings. 
One thing that makes Radius unique is that we conclude our research projects by providing actionable recommendations based on our research. Our teams aren't siloed, so we are able to work together throughout our Mixed Methodology approach to arrive at a deeper understanding of the problem the client needs to solve. 
Strategic thinking from the start
One thing I did not expect as I transitioned from agency work to pursuing my career as a moderator, is the amount of work that I would need to do before I could put on my moderator hat. The moderator's role through a Mixed Methodology project is key because, in many ways, the success or failure of a project falls on the moderator's shoulders. The moderator's role isn't just about talking with people and getting them to open up about their thoughts, feelings, and processes. We must be strategic thinkers and communicators, problem solvers, and often the bridge between internal and external teams all while remaining agile to adapt our approach as the research is updated, client's needs change, or market trends shift. 
The enduring need for qualitative research
There is a misnomer in the agency world and beyond that advanced research practices such as artificial intelligence (AI) might displace the need for the qualitative work that I do. As the world becomes increasingly data-driven, qualitative research will continue to play a significant role as it provides a deeper understanding of the motivations behind the data. Without qualitative research, the human voice, and depth of understanding required to make more informed and well-rounded business decisions is lost. 
Read more about our moderators. Here's Kathy Leurck's story.
Get more information about staying agile with Mixed Methodology.
Want to explore a Mixed Methodology approach?