Market Landscape research uncovers insights and provides data-driven answers to questions that drive growth strategy for brands:
What is the size of our market?
Who are our chief competitors, and are there emerging competitors we need to watch?
Do we have a clear view of our customers and their segments?
Are there new/upcoming trends or market forces we should take into consideration.
Can we fill any gaps or white space that our competitors aren't currently addressing?
As teams collaborate on the findings, they can create data-driven action plans to help them meet emerging trends, build strategies against threats, and deepen engagement with customers.
Understanding your market landscape is critical to maintaining your position as a market leader. Research insights bring a clear understanding of customer needs and competitive threats that impact your overall brand growth strategy.
Brands that maintain a clear focus on the market uncover a deeper connection with customers and what they want, along with valuable knowledge about the territories they're in as well as new terrains to explore. Market Landscape research builds a foundation for creating an impact on the marketplace.
Establishing a healthy market landscape research program helps brand teams identify emerging opportunities and threats, so they can efficiently adapt their strategies and make informed decisions based on data-driven insights. This proactive approach enables brand teams to pivot, innovate, and refine their products or services to meet evolving customer needs and stay relevant to their customer base. Developing reliable knowledge \about the market helps brands navigate uncertainties, make strategic adjustments, and seize the advantages of a shifting landscape.
Develop a proactive approach to anticipating competitive threats.

By understanding your competitive environment, you can proactively address threats that may hinder your growth. This proactive stance ensures you won't be caught off guard by unforeseen challenges. Mitigating risk clears a path for optimizing your strategic brand investments. A clear understanding of the "big picture" allows you to channel investments into areas that promise growth, making your investments more strategic and effective.
When is Market Landscape research most helpful?
A healthy market landscape research program establishes initial research that serves as a baseline for ongoing updates as the market shifts. The ability to identify when it's time to reassess and recalibrate your growth strategies can be a defining factor in your brand's overall success in reacting to market dynamics as research insights help you recognize the critical signals that indicate it's time to take a strategic look at your market.
Market Landscape research can also provide answers to critical questions such as the following:
Is now the right time to expand into new markets?
Why are consumer preferences shifting so quickly?
Is our technology ecosystem keeping up with our business needs?
Does our innovation program meet demand at the right pace?
Are we communicating with customers in the most effective ways?
Are our products and services evolving at a pace that ensures we'll meet current and future demand?
How well are our top managers meeting performance goals?
Research Methodologies that support Market Landscape insights programs.
A comprehensive Market Landscape program should be tailored to your specific needs, focusing on your business goals and your unique position in the market. We employ a vast range of methodologies, tools, and approaches to the program we develop for each client. Each project begins with developing a clear understanding of your market, the current research your teams have conducted on their positioning, and extended conversations with key stakeholders to fully understand your company's approach, project goals, and business aspirations.
Qualitative research provides a deep look at customer needs and wants.
Our process begins by talking in-depth with stakeholders, key decision-makers, or industry experts to create a clear picture of the market, and your desired business outcomes.
We conduct customer interviews to dig deeper into customer perceptions, attitudes, and preferences. Immersive sessions help us see how customers behave in stores, or in their homes, providing a more complete view of how they interact with your products or services. Ethnographic research, shopalongs, and in-home visits uncover valuable insights and feedback to help us design additional research.
We may also suggest Immersion Excursions where key stakeholders gain first-hand knowledge about the customer experience. During these events, researchers and brand teams can witness customer interactions in the environment where they happen to gain a personal connection with customer preferences, pain points, and provides an opportunity for interviews and additional conversations.
Our team weaves the insights into a story-driven analysis of what we've learned so far about customers. We can add additional research, such as online bulletin boards, mobile apps, and social media analysis to ensure we're developing a full and robust set of insights for study.
Quantitative research helps us evaluate, validate, and build specific action plans.
Stakeholder interviews, and qualitative research inform our approach to the quantitative phase of our Market Landscape study. This helps us move into the quantitative phase where we can employ a series of research techniques to develop a full picture of the market opportunities.
We may employ a series of structured surveys to a large sample of respondents. The results provide data insights on consumer preferences and behaviors. We will perform a deep analysis of the data using statistical techniques such as regressive analysis, or factor analysis to interpret the quantitative data and identify trends or patterns in the data that are critical to the overall research.
Looking at customers and how they interact with the market overall is a critical component of our research, so we conduct a competitive analysis of the market landscape to look at similar products, and levels of satisfaction customers report.
With these insights, we can begin to identify clear segments that are ideal for your brand. We look at demographics, psychographics, and other characteristics to match preferences to distinct groups.
Our Mixed Methodology approach helps us develop a clear and holistic set of insights that can reveal nuance and emotional connections customers have with your brand that we can test and validate.
To understand the specifics of how customers arrive at the decisions they make, we use advanced analytics such as choice-based conjoint analysis or discrete choice modeling. This helps us see their real decision-making process when presented with plausible options.
Market sizing leverages historical data and existing information to gage the size and potential for your brand.
A clear understanding of your market can help answer new questions as they arise. For example, if customers are suddenly switching brands or providers, we can study recent switchers in the broader market, including those who have left your brand. Understanding what is driving consumers to your competition provides insights on how to take action to improve your market positioning or develop stronger approaches against your competition to retain existing customers and possibly win back loyalty from those who strayed from your brand.
Our Mixed Methodology approach helps us develop a clear and holistic set of insights that can reveal nuance and emotional connections customers have with your brand that we can test and validate. The result is a reliable set of insights that will help your team build action plans along with measuring and tracking approaches to ensure the insights are delivering on your growth strategies.
---
---
Identify white space, explore new opportunities, and build confidence through testing.
The insights we gain from exploring your market play a pivotal role in bridging research and process gaps. This is particularly helpful in driving innovation by uncovering whitespace opportunities and identifying which opportunities show the most promise in the marketplace. The result is a data-driven approach to launching new products, product lines, or extensions that are more likely to resonate with your core customers.
Research insights can also help brands take a fresh perspective on positioning. Insights can point to places where better alignment with consumer preferences is needed and help stakeholders bridge gaps where customer needs aren't being met in the market. The insights also help with internal alignment, ensuring that all teams from production to marketing and customer service are focused on your customers, and your approach.
We work with specific teams to help them leverage the Market Landscape research for their specific needs. For instance, we can help marketing or sales teams test messaging with target audiences to ensure effectiveness.
Case snapshots:
How Market Landscape research leads to brand growth.
Designing a global growth roadmap.
In a quest to refine its global product strategy, a leading server manufacturer turned to market research for guidance. The objective was to gain insights into market trends and customer expectations across the U.S., Germany, China, and Japan. The research focused on understanding the state of IT management automation, tools and challenges in use, and the value of security, analytics, and management offerings. The custom approach involved a two-phase methodology, comprising a quantitative survey and in-depth interviews. The results provided actionable recommendations for streamlining the brand's growth roadmap and aligning global offerings with market-specific needs, emphasizing the development of automation solutions and customizable telemetry data. Read the complete case study to learn more about developing a growth roadmap.
Uncovering unexpected insights for a financial services firm.
A financial services firm marketed its tax and accounting services separately. However, insights from the market landscape tracker revealed that firms that bundled both services were creating more business opportunities for themselves. The research insights persuaded the firm to take a strategic shift, aligning the company's product approach with the newly defined market space, setting them on a path to growth.
Ensuring Market Landscape insights are actionable for your team.
We embed best practices for activation into our overall approach, considering activation opportunities and goals from our first stakeholder interviews. In this sense, we design and develop research not only to arrive at the findings, but to help teams throughout your organization build activation strategies based on those findings.
Teams will use market landscape research to:
Deepen collaboration and engagement internally by creating a common language and references.
Refine targeting strategy to meet evolving customer needs.
Identify brand benefits against competitors to drive sales and brand loyalty.
Develop new positioning to drive brand growth.
Update product and service design to maximize brand offerings.
Tailor communication for more effective advertising and marketing that resonates with customers.
The research insights create a wide range of opportunities for teams, which can be overwhelming. Our approach to helping teams with market landscape activation gives them an opportunity to absorb the infhttp://market-landscape-activation/ormation, and provides reports tailored to the needs of specific teams to help them begin their planning. Workshops and meetings with specific stakeholders and teams give us an opportunity to dig into the specific material that will help each team design their activation steps, and our Looking Glass™ workshop brings cross-functional teams together to align on strategy and create action steps.
We also help teams design strategies for implementing and tracking their plans, developing key performance indicators based on the research insights that will ensure their strategies are tracking with growth objectives. We schedule milestone check-ins to touch base with teams, check on progress, and make adjustments to ensure their approach is on track with growth targets.
Maintaining momentum and leveraging the research to pivot and adapt.
Brands that maintain a strong focus on research will often commission ongoing "pulse" studies to use as an essential tool to assess customer trends. This insights-based approach helps teams see emerging patterns of consumer behaviors and assists them in identifying new marketplace requirements. It also helps teams anticipate and react to trends and see emerging threats looming on the horizon.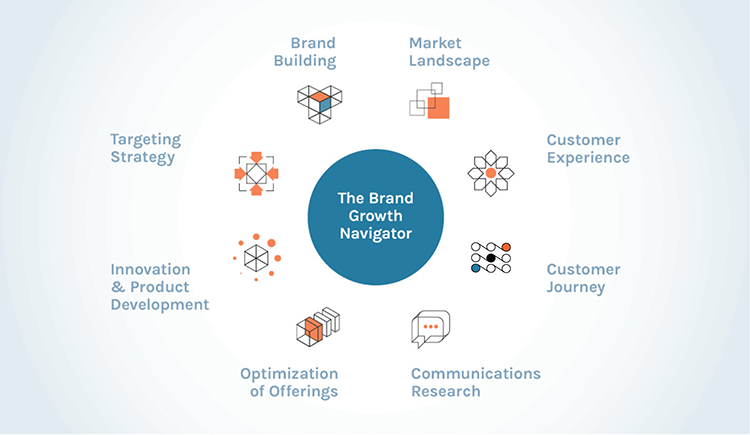 The Brand Growth Navigator
Market landscape research is a critical element of our Brand Growth Navigator approach, a framework for strategic issues that impact overall brand health.
Explore our Brand Growth Navigator to learn more about how our insights-based approach is designed to help brands build a meaningful and lasting research program that supports their growth strategy.