Every tracker is fundamentally a report card. We're gauging performance, developing a profile of the marketplace, looking at brand positioning, and determining how performance drives consumer behaviors. It provides a measure of performance and explores how all the piece-parts link together to ratchet up that performance.
Unfortunately, many companies miss an opportunity to strategically drive brands forward by thinking of trackers only as tactical scorecards. The result is that some companies choose to forego tracking altogether and some examine only the surface metrics. The reality is that trackers are ideal for proactively managing brands and driving efforts against the marketplace in a much more strategic and deliberate manner.
If you're currently tracking your brand, there's a good chance that you can get more insight from your current information to help you actively manage and strengthen your brand. If you're someone who has chosen not to invest in tracking, you are likely missing out on an opportunity to learn things that will keep your brand relevant and healthy.
Following are three ways you can grow your brand by leveraging tracking: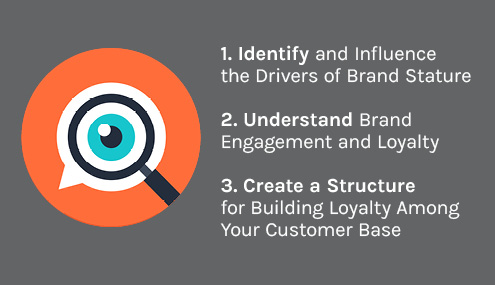 1. Identify and Influence the Drivers of Brand Stature
Beyond providing a basic understanding of your brand vs. the competition, tracking should help you understand the equities that contribute to that status and what you can do to advance your brand's stature.
This happens by isolating interactions that tell us what to build upon to improve brand relationships.  To do this effectively, we need to get into the mode of looking beyond just attitudinal/survey data alone. There are so many places where we can listen to customers, and we should consider all these touchpoints (social media, recent in-store, online interactions, etc.) to help us manage our brands and inform our strategy.
Coupling recall and brand perceptions from our survey with as many external data sources as possible will help to predict which touchpoints and brand equities drive brand momentum and strengthen your position. Knowing these drivers holistically helps to identify where you might be falling short of competition on price of entry and emerging opportunity dimensions.
2. Understand Brand Engagement and Loyalty
A strategically-oriented tracker should deliver an interactive Brand Loyalty/Involvement model to help you understand what dimensions — emotional/imagery perceptions or functional attributes/benefits — drive engagement with your brand.
By developing a hierarchy of Loyalty or Brand Commitment, and bringing in those external sources, we can identify triggers that lead to greater brand involvement. Likewise, you can also learn what drives consumers towards competitors and what is required of your brand to stem this tide.
3. Create a Structure for Building Loyalty Among Your Customer Base
Once you've defined the Building Blocks of Loyalty you can do several things:
Identify a relevant business outcome
Select behaviors to represent your business outcome
Establish a single loyalty metric defined by the measures that drive your business outcome

A strategic tracking program will help you strengthen loyalty via modeling that simulates the impact that moving the needle on key metrics will have on driving deeper involvement.
This happens by first sizing the audience that is most loyal to you all the way to those most 'at risk' of being lost. Connecting this sizing to your drivers of engagement allows you to develop a 'momentum' index to indicate which brands are 'on the move' and which are stagnant or retracting.  The result is the ability to build a strategic plan around things that will enhance momentum and/or halt a backslide.
The reality is that trackers are ideal for proactively managing brands and driving efforts against the marketplace in a much more strategic and deliberate manner."
Strategically leveraging the voice of the customer via tracking, plus the multitude of other forms available in the market, is key to your ongoing brand success and will help you avoid brand failure. Are you ready to put your brand on the path to success?