Case Study
A major financial services company wanted a better way to communicate key drivers of brand consideration and positive differentiate themselves from competitors.
First, the brand team needed a clear, ongoing assessment of the market landscape to identify opportunities for differentiation. This spanned all facets of their portfolio, including banking, property and casualty insurance, life insurance, and wealth management.
Custom Approach
A quarterly 15-minute online survey was designed to target 1,500 customers and 3,000 prospects between the ages of 18-80 years old who served as household financial decision-makers and demonstrated an awareness of at least one of the financial services companies in the competitive set.
Methodology
The centerpiece of the research focused on two core elements:
Key drivers that identified the impact of a range of attributes, including the level of engagement or interest that customers and prospects demonstrated with financial services firms.
Brand performance assessments and SWOT analysis in relation to these key drivers.
Elements of the analysis included driver prioritization and brand positions against key drivers, including functional, emotional, parity attributes, and target profiling.
Brand funnel assessment for each category included a focus on competitors:
– 7 banks
– 6 property and casualty insurance companies
– 5 life insurance providers
– 9 wealth management firms
Research also assessed the strength of brand relationship, brand advocacy, and advertising recall among participants.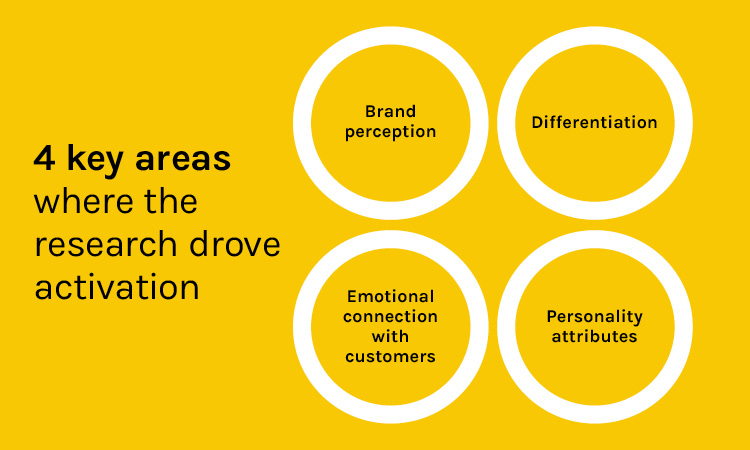 Growth Outcome
While the work informed a wide range of business decisions, there were four key areas where the research drove activation:
Brand perception. Identified opportunities to strengthen perceptions of the company's operational areas, including ease of doing business, providing a great online experience, and exceptional customer service. The client has used this in marketing initiatives to meet customer demands.
Differentiation. The opportunity existed to differentiate on emotional drivers of consideration, where currently no competitors stand out.
Emotional connection with customers. "Brand for me" and "proud to do business" were identified as the strongest emotional drivers for all targets. Reinforcing these themes in marketing and communications efforts have helped differentiate the company and drive consideration.
Personality attributes. The company is well positioned on several impactful personality attributes among customers and prospects. These personality attributes will be leveraged to impact other areas of brand positioning.
Learn more about Radius Financial.
Would you like to discuss how brand tracking can help your brand?