Many companies come to us wanting to know more about the customer journey, an increasingly hot topic in recent years. What steps do consumers take before they ultimately make a purchase decision? Where and how can I influence that decision? Good and necessary questions, certainly. But what some companies miss is the journey before the journey — ensuring that their brand (and category) is even in the consideration set to begin with.
Many companies are eager to jump right into customer journey research, ready to map out the ways they might be able to grow market share and generate a beefier bottom line. But there are three important questions to consider first:
1. Am I Speaking the Language?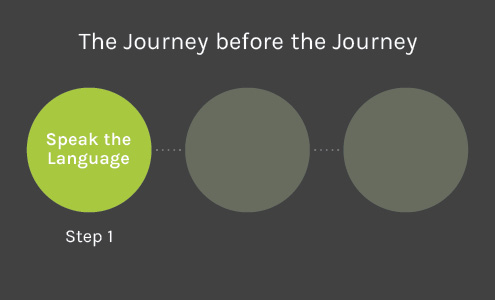 If you're not speaking your customer's language, you're not going to be a viable option when it comes to decision time. The customer journey means nothing if you cannot communicate with your potential customers in ways that resonate with them throughout the decision-making process. We've seen beautiful and smart messages crafted by brands fall flat because consumers weren't connecting with what they were saying.
Be sure you're both speaking the same language.
2. Am I Capitalizing on White Space?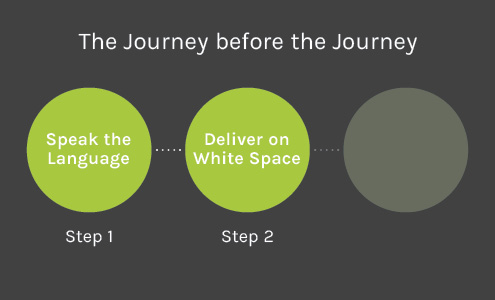 Where are consumers being unserved or underserved? Identifying and delivering against areas of opportunity can quickly thrust your brand into consumers' consideration set. You're not necessarily innovating here or creating a new need. You're simply looking at the marketplace, seeing what consumers want, and figuring out where other brands are failing to deliver for them.
Find, own and seize opportunity with enthusiasm.
3. Am I Maximizing Strengths and Minimizing Weaknesses?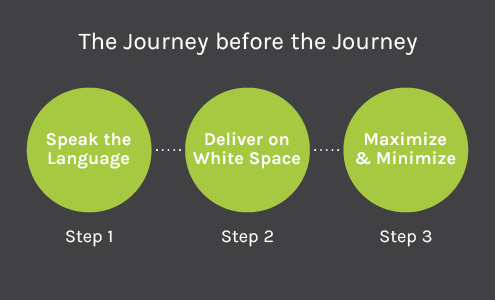 Assess your brand's strengths and weaknesses critically. What you might consider your brand's greatest strength could be less important to the consumer. What you believe is a minor weakness could be a large deterrent. Ensure you understand both from the consumer's perspective and not your own. What they think matters more than what you think — making assumptions can easily knock you out of consideration.
Don't assume. Know the consumer.
Are you ready for the journey?
Save
Save
Save
Save
Save
Save
Save
Save
Save
Save
Save
Save
Save
Save
Save
Save
Save
Save
Save
Save
Save
Save
Save
Save