What to apply along the way to drive the pipeline.
The true advantage of innovation is summed up best below:
"Innovation is a new offering or business model that enables a company to gain a significant advantage — thereby generating abnormal profits and stakeholder value over the long run." – Arwind Malhotra, Professor at UNC
To achieve true innovation, you and your team…
Need to think differently, not be tied down to what could or couldn't work
Set the vision, lay out the possibilities based on what people will want in the future, what solves real problems or empowers a better tomorrow
So, How can you set the vision and drive the pipeline?
Research to guide the innovation processes requires bold thinking, strong vision and identifying clear paths for what information is needed to drive business decisions.
It's with this in mind that Radius has built an Innovation Roadmap to guide your efforts. Each step, regardless of where you sit, links to key insights you should expect at that stage of the path and recommended approaches for achieving these insights: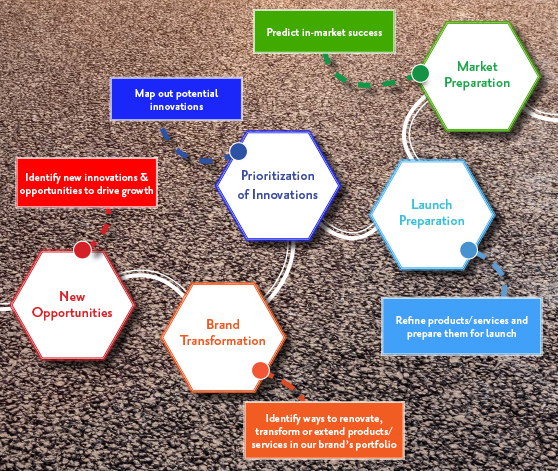 The first step is determining where you are on the path. Once you've pinpointed where you sit, following is a quick reference guide for what to know and expect:
Step 1 – NEW OPPORTUNITIES
These are often the toughest, most challenging ones. The stakes for new opportunities are high, and the answers are often not clear-cut.
Step 2 – BRAND TRANSFORMATION
Brand transformation is critical to ensuring that you keep pace with the evolving buyer/user/consumer and marketplace. This requires guidance for shifting or expanding your brand image, products, and/or services to attract new customers.
Step 3 – PRIORITIZATION OF INNOVATIONS
As companies move beyond these first two phases, they begin to narrow down their focus for their innovation. The next step is will be optimizing and aligning to priorities:
Step 4 – LAUNCH PREPARATION
As final decisions for the innovation become clearer, the business questions become focused on what's needed to prepare and ready the new product or service for the launch.
Step 5 – MARKET PREPARATION
While some companies will move forward with their new innovations at this point, and take them to market, others companies seek data to gauge performance.
Regardless of where you sit, the Radius Research Innovation Roadmap ensures you connect with the right solutions to drive successful outcomes. For more details on what to expect at each stage outlined above, please download a deep dive into the steps.
Contact us to learn more about your innovation challenges and help you assess what research is best to meet your challenge head on.
Save
Save
Save
Save
Save
Save
Save
Save
Save
Save
Save
Save
Save