What is your background and how did you get into this field?
I graduated with a degree in advertising and communications from the University of Texas at Austin, where I also played college soccer. After college, I fell in love with market research while working on the account team at Grey Advertising. Then, as the first-ever Account Planner at Daley & Associates in Los Angeles, I worked on traditional qual and quant research for our clients, including all the new business presentations. We created man-on-the-street and woman-in-her-medicine-cabinet interviews and highlight videos. As I grew in my career, I realized that IDI and moderating work appealed to me the most, so I continued down that path, training as a moderator, and I also have experience in competitive intelligence.
Tell us more about the work you do at Radius.
Most of my work at Radius is one-on-one, in-depth interviews, either in-person or online, and I really enjoy IDIs. In order to get the richest information from each respondent, I like to have a bit of time to explore the respondent's mindset, attitudes, and goals at the beginning of the interview. For example, one small business owner might have a goal of simply staying in business and not going back to work for someone else, while another may be set on quickly growing their business and expanding into new markets. While they are the same size business, the approach should be different for each of these owner types.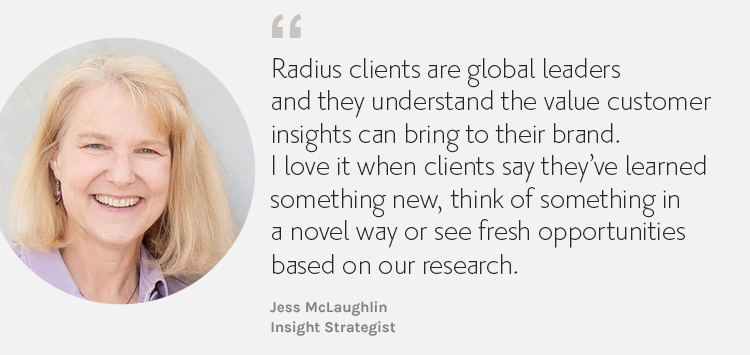 How does the work you do impact the overall research for clients?
Radius clients are global leaders in what they do, and they understand the value customer insights can bring to their brand. I love it when clients say they've learned something new, think of something in a novel way or see fresh opportunities based on our research.
Clients are busy and not always able to listen to interviews live, so we have to listen attentively and get quality information from each interview. I enjoy sharing a snapshot profile of each respondent with the client and brainstorming with them about the findings and next steps.
For each study, I create multiple shareable visuals such as SWOT analysis, patient and customer journeys, decision making steps, buying processes, segment profiles, decision timing, linked factors, and influencers. These are also a great starting point for client discussions and work sessions. These materials help the client visualize the findings and provide insights they can use in their action planning. It's truly rewarding to know we're giving each client a personalized and thorough view of the research.
Do you have an area of focus for the work you do at Radius?
I worked for 10 years in pharmaceutical and healthcare research, and still enjoy that work very much. I love projects about health, education and children. For example, I recently talked with parents about kids' online use, and also interviewed seniors, healthcare professionals and community activists about aging in place.
Of course, it's fun to do on-site research and shopalongs, but I enjoy talking to pretty much anyone about pretty much anything. I think you could probably say the same about all of the Radius moderators. There is genuine interest in what the respondent is saying, and a desire to ensure that our clients not only understand but have guidance to act on the information for their brand.
What do you do in your free time?
My husband and I enjoy hiking with our Labrador retriever, and I enjoy trail running, gardening, and playing the piano. I'm also a nationally licensed soccer coach, so I teach private lessons and train travel teams. Each player comes in with strengths and weaknesses — sometimes they are aware of them, but sometimes they aren't. My job is to identify and work on their weaknesses while continuing to develop their strengths. I feel there are a lot of parallels between the coaching work I do and my market research work — both disciplines rely on listening first, then developing a personalized growth strategy.
Want to talk about how qualitative research can help your brand grow?