The moderator serves a significant role in a Mixed Methodology research project, connecting with the client from the initial stages of research to understand project objectives, and bringing the voice of the customer to life before, during, and/or after the quantitative phases by getting to the "why" behind the "what". The unique blend of skills they bring helps the Radius team provide recommendations backed by deep research and understanding of the customer voice. Amy Spera shares about her experience as an Insight Strategist and moderator.
Tell us about your background.
Professionally, I "grew up" in Manhattan, and I'm a merchant by heart — a big fan of fashion and retail. I worked in brand management at Procter & Gamble for 10 years where I spent my time in the beauty category. At P&G, I was one of those brand people who was always in the insights person's space, digging into the data. Consumer research is where I'm at my best, so it was a natural transition for me to move over to this role at Radius. I've been here 10 years now, working on a wide range of projects.
Talk about the work you do at Radius.
I'm an Insight Strategist focused on consumer insights and brand strategy. We get the opportunity to work on a wide variety of projects, but lately financial services and tech have been strong categories. I'm also doing work for consumer products including some projects for retail and fashion, which is nice — kind of like coming home.
Doing this kind of strategy work for any of our clients, moderating is just one facet of the job — the part of the project that allows you to dig in and gain insights directly from consumers. There is a lot more that goes into the work outside of the immersive sessions. When I'm working on a project, I like to think of myself as an extension of the consumer insights team, but in a consultative role where I am representing the consumer as well as the business.
Our work focuses on understanding the unmet needs consumers have and how that fits into the competitive landscape so the team can transform the insights we uncover into action that will have an impact in the hearts and minds of consumers.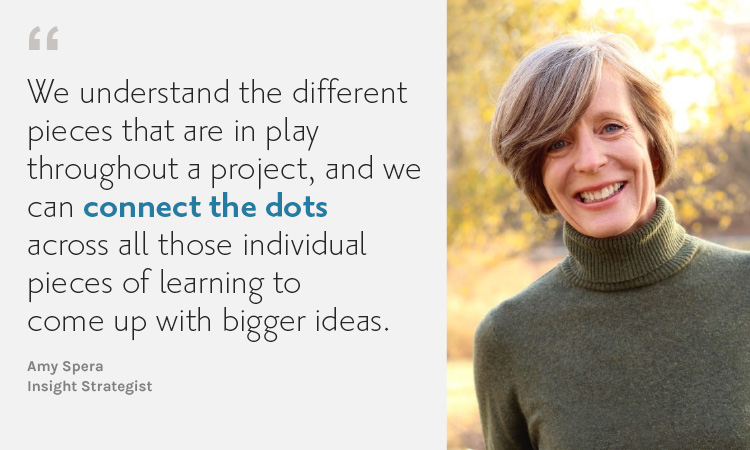 Has social media changed your approach to the work you do.
One key area that's interesting is helping companies with the value proposition and strategy behind what they're delivering to consumers on social channels. In social media, there is the consumer to keep in mind, but there is also the creator to consider as well. The brand or communications strategy needs to intersect with the consumers and the creators. It's a really interesting space. You need to communicate and appeal to multiple audiences while balancing their very different needs.
For example, one of the big trends right now in social media is social shopping, which is creating opportunities for the consumer, the brand, and the platforms where they meet, it's a competitive space, and I enjoy the challenge of helping brands develop their value proposition for both creators and consumers.
There must be a lot of intersection between social and tech?
Exactly. We can ask consumers to walk us through their online shopping experience by sharing their screen. If we ask consumers to shop for a specific product — anything from denim jeans to new tires for their car — we can see what their preferred device is, what actions they take first, which social channels they prefer, and the influencers they follow. We can gain insights on how the shopping experience translates to a purchase. One thing we've discovered in these sessions is that interviewing consumers about online behavior and actually walking through their online experience with them leads to very different insights. Being able to see them shop, you're there to see the glitches they might run into, or the way they're distracted from their original path, and that's very helpful information for brands to have as they develop activation strategies.
What areas of research interest you the most?
I enjoy doing foundational work, uncovering deep insights within a category. Working with consumers directly, you can really understand what their needs are and how they view the category. Developing this understanding can fundamentally help a brand make better decisions about how they interact with their consumers.
I also love to do advertising work for clients, helping them understand how to communicate their creative transformation effectively.
For example, if a client is producing an online ad, we can help them understand how to drive emotion through the ad to establish a deeper connection with their customers.
Talk about the role the insight strategist plays in the big picture in a research project.
We play a key role, because we understand the different pieces that are in play throughout a project, and we can connect the dots across all those individual pieces of learning to come up with bigger ideas. This is where the role adds so much value.
There are clients that I've worked with for years, so I understand their foundational consumer needs and I am able to help them from concept to a product. It's very satisfying to see the insights we've developed help them meet the expectations all along the way — from packaging, advertising and through a successful launch.
Read a recent case study where customer feedback moved the needle for a consumer product.
Want to learn more about how our insights can transform your approach?