Tell us about your background — how did you get to your present role?
My background includes a mix of science — I studied biology at the University of Cincinnati — and creative work, but my career has focused on working for agencies, corporate brands, startups, and non-profit organizations on a variety of projects. I've had the opportunity to create new brands from scratch, and I've helped legacy brands evolve and grow. As a strategist and writer, I've done project work in the CPG space as well as finance, insurance, healthcare, and food and beverage companies.
Tell us about your role as an Insight Strategist at Radius.
Our team contributes to a wide range of projects. We'll help brands create new concepts or ideate ways they can evolve existing products to meet new market needs. The qualitative research we do helps brands better understand consumer trends, and I enjoy participating in and leading sessions with consumers, guiding the conversation to get insights that will help brand teams make better decisions.
My experience as a brand strategist and writer is helpful in the work we do, particularly for branding and communications projects where we need to test specific messaging. I'll write specific copy for testing, and our team can use a variety of methodologies to get input from consumers on which lines resonate. This is an iterative process and we can take a few different approaches to help clients evaluate and develop the strongest options.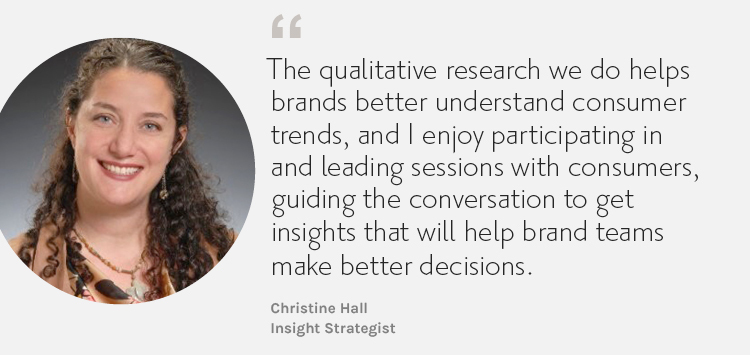 Is there a specific aspect of this work that appeals to you?
Radius has a unique approach with Real-Time Concept Optimization (RTCO), a process that allows us to sprint through a series of copy options such as taglines, product descriptions, or even product names, for example, to gain live input from consumers. It's a bit stressful because participants are talking over each other to chime in with opinions, facilitators are asking questions, and I'm optimizing the copy as they're speaking.
The sessions are a whirlwind, but they result in highly optimized product descriptions, taglines, or other material that can be further tested, giving the client a high degree of confidence in the way they're presenting their product or service. Our RTCO approach and the team's overall innovation process require a good deal of strategy and up-front thinking, which feeds my sense of curiosity and keeps the work interesting.
What inspires you about your work?
I appreciate the opportunity to continually explore new topics. Also, the teams really care about how the projects will impact the overall work to make a difference for the clients. The teams follow through and dig in on projects to ensure that the clients are getting the most out of the work we're doing. From research to testing, a lot of extra effort goes into each project. It's still a thrill for me to see a concept that I worked on with the team go through this process and make it onto the shelf or into a campaign.
One thing I've found surprising about Radius is the amount of hands-on creative work the firm does. Coming from a traditional agency background, I'm used to the back-and-forth between a research agency and the creative team, but Radius has developed a collaborative formula that blends research and creative so that clients can move through the process faster. The approach saves a lot of time and makes a big difference, especially now as products and services need to evolve so quickly.
How do you spend your free time?
I have two children and we've adopted two German shepherd dogs, so it's a busy house. I also co-founded Dead Low Brewing with my brothers — it's a brew pub located in Cincinnati's California neighborhood.
Want to learn more about our approach to qualitative research?