Curiosity about consumer behavior has guided Jodi Koehler's career. "My undergrad degree was in engineering, and I didn't even know that market research existed. Yet, through my first job, with Procter & Gamble, my eyes were opened to a whole new way of looking at things. It was fascinating to learn how consumer insights drive innovation and just like how uncovering unexpected insights can change the direction of a brand, discovering this new passion shaped my career."
Through her 18 years at Procter & Gamble, Jodi gained extensive experience in both qualitative and quantitative research techniques, practicing across a wide range of initiatives. "I enjoyed helping my cross-functional teams build the business by uncovering compelling stories hidden within the data," she says.
Jodi's moderation philosophy emphasizes the importance of starting with clear objectives to guide the research design and the direction of conversations with consumers. She also believes in finding something to love in everyone. "Fostering authentic connections to deeply understand individuals and their motivations creates engaging dynamics and helps to uncover valuable insights," says Jodi.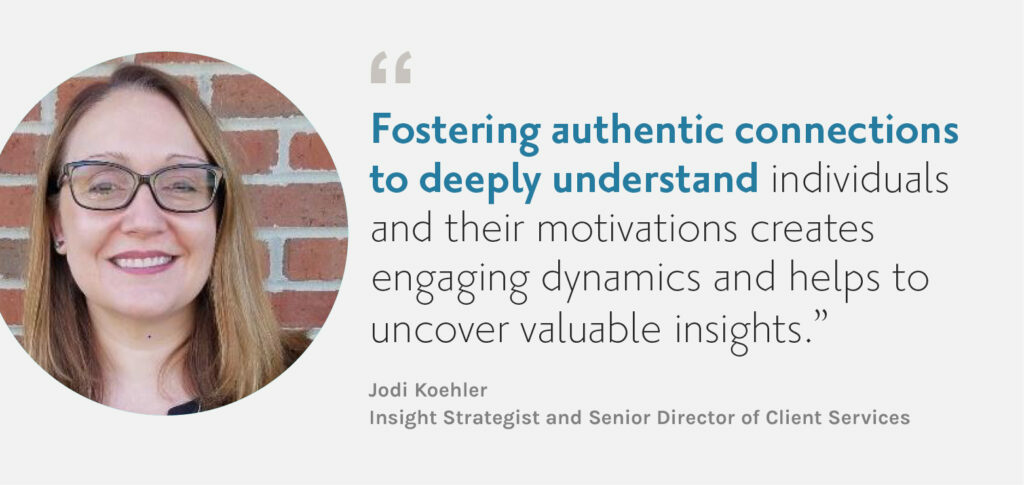 A collaborative approach to research leads to insights that drive business growth.
Jodi excels at partnering with clients on research, putting a strong emphasis on understanding clients' needs and designing rich learning plans to maximize insights. She works on a diverse range of global projects with B2B and B2C audiences. Jodi often leads highly technical research and has developed significant expertise in developing product innovation pipelines and complex communication strategies. Her expertise extends across R&D, product design, innovation pipelines, shopper understanding, customer journey, segmentation, and Jobs to be Done.
"In my current role at Radius, I'm an Insight Strategist and Senior Director of Client Services," says Jodi. "As an Insight Strategist, I strategically consult with my clients to deeply understand their research questions, learning objectives, and hypotheses to develop a custom learning plan. And then I execute upon that plan, and synthesize the learnings into highly strategic, business-driving insights and recommendations."
A skilled facilitator and qualitative research moderator, Jodi also has an innate ability to collaborate with her clients in a way that ensures the actionability of insights by various stakeholders within the client organization.
Elevating the experience with a focus on client success.
As Senior Director of Client Services, Jodi serves as an internal qualitative expert and consultant supporting research and sales teams to build a deeper understanding of qualitative work. She is also instrumental in bringing new qualitative research capabilities to the organization, expanding the firm's offerings to ensure clients have access to the best research insights. "I like to stay on the cutting edge of new research approaches and find new ways to help our clients," says Jodi.
Jodi's leadership role extends to capability-building, training, and developing internal work process tools. She conceived, launched, and oversees the firm's Insight Strategist co-op program, which welcomes students to work and learn at Radius. This program has now become a path to building a qualitative moderator talent pipeline. She has also become passionate about harnessing the power of AI to enable the qualitative research team to be more efficient and effective.
A balanced life.
Outside of work, Jodi enjoys spending time with her family, fine dining, cooking, and good wine.
Want to learn more about our client-centric approach to insights?