Understanding the decision process is vital for companies when it comes to connecting with, and being selected by, their target customers.  Yet it is often challenging to capture an accurate view of what the path to purchase looks like in many categories.  Much of this is due to the various steps and factors that lead to a final decision, and we simply can't be there alongside the customer for the entire journey.
Throughout our history of researching the customer journey Radius has explored a range of options for capturing the best, most actionable information to clearly map the decision process.  Recently we have arrived at an approach that has proven to be the most effective and insightful of any we have seen to date.
We refer to this as the "Interactive Journey Map."  Using existing planning tools, we have constructed a way of asking customers to plot their decision process, allowing them to better visualize the steps involved and more accurately outline the order, timeline, and degree of importance of each phase.
In examining the path to purchase, often researchers know what specific steps the decision-maker undertakes but do not have in-depth information about each of these steps.
The Interactive Journey Map allows a respondent to build his/her own timeline of steps via an interactive Gantt chart within a survey.  It is easy, engaging, and yields a rich amount of data, including the prevalence, sequence, overlap, and length of activities.
The timeline building exercise allows the respondent to:
Select which steps were part of the process (from a pre-defined list)
Drag the start and end to show how long each step took
Change the order of steps
Show the overlap of steps
Build a dynamic Gantt chart of their pathway
Below is a view of what this looks like to the respondent: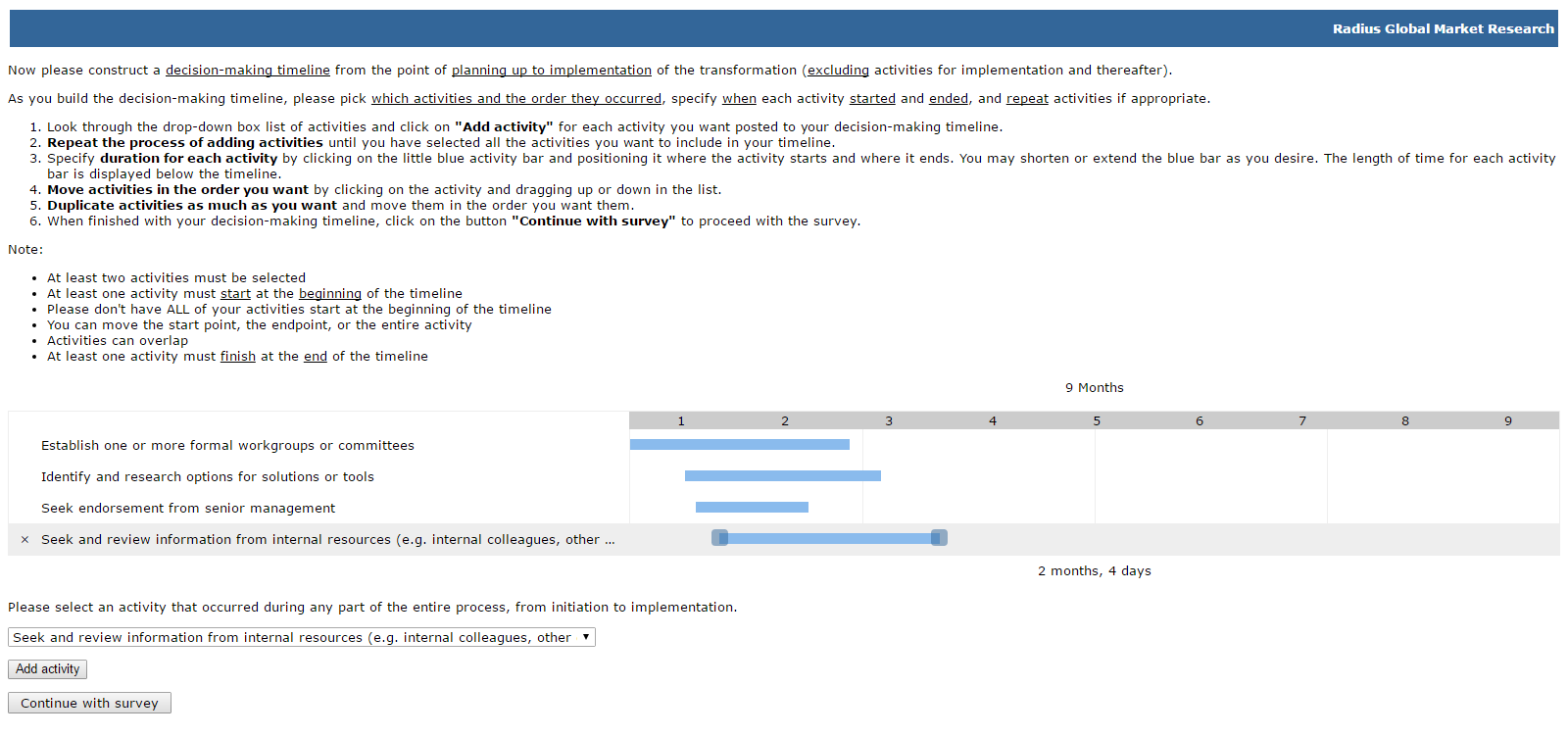 The result is a portrayal that, by its visual nature, is more reflective of what was undertaken during a decision process than what we often achieve through traditional survey methods.
Following is a sample timeline built by a respondent to depict the process for a longer-term purchase decision:

Benefits of the Interactive Journey Map are several:
Emulates the free-form thinking process and flexibility of qualitative research.
Provides an overall context for follow-up questions. Activities chosen by the respondent are visually displayed in their own customized timeline which can be used as a sense-check while they construct the full decision-making process.
Generates stronger respondent engagement and interest.
Improves data quality. Data are more robust and accurate because the activities are displayed to the respondent on the timeline enabling them to revise, alter, or move activities around as necessary.
If you would like to learn more about how Radius can help your company better understand the Customer Journey, please contact us.