The moderator serves a significant role in a Mixed Methodology research project, connecting with the client from the initial stages of research to understand project objectives, and bringing the voice of the customer to life before, during, and/or after the quantitative phases by getting to the "why" behind the "what". The unique blend of skills they bring helps the Radius team provide recommendations backed by deep research and understanding of the customer voice. Susan Raftery shares about her experience as a moderator.
Describe your background and education…what was the path you took to get to Radius?
I have a degree in International Business from Ohio Wesleyan University. My interest in market research was piqued when I worked as an intern for a local market research company. The owner was an ex-Procter & Gamble researcher who took me under her wing and trained me as a moderator. My first moderating project was for Kroger, the topic was yogurt packaging. I was hooked!
Wanting to combine my International Business degree and market research interest, I moved on to Burke, Inc., eventually managing the qualitative research department.
I stepped out of the corporate world while raising my two kids but maintained my qualitative skills as a qualitative report writer during that time. Eventually, I got back into research as an independent moderator, which eventually led me back to working full-time for Illumination Research in 2011, which is now part of Radius.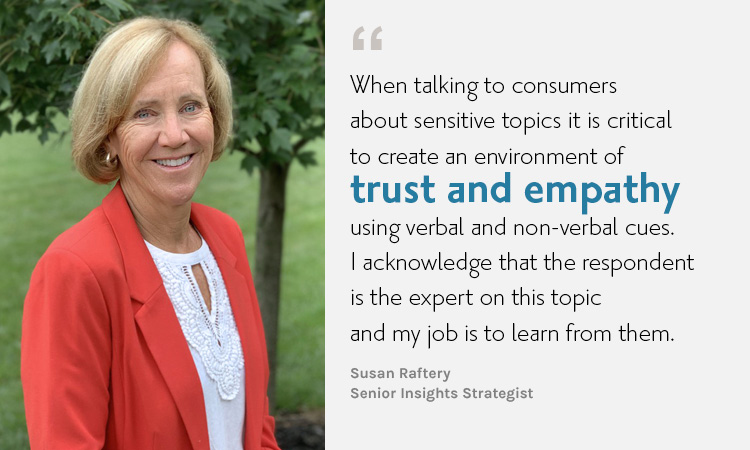 Talk about the work you do at Radius and your specialized practice areas.
I often work with topics in the medical or pharmaceutical field that require a specialized approach. When talking to consumers about sensitive topics it is critical to create an environment of trust and empathy using verbal and non-verbal cues. I acknowledge that the respondent is the expert on this topic and my job is to learn from them. I let them know I appreciate their willingness to share and discuss their experiences. We start with general questions about the topic, eventually getting to the more personal information as I gain their trust and they become more comfortable talking about the topic.
I use a direct approach with my line of questioning, asking the obvious yet sometimes uncomfortable questions. This gives the respondent 'permission' to share information and helps open up the conversation. When the right environment is created, these conversations can be therapeutic for consumers as they are given the opportunity to talk about personal thoughts, feelings, and experiences.
Help us understand how your role as a moderator fits into the bigger picture during an engagement.
As a qualitative researcher my role is to ensure the research methodology is the best fit for the objectives and to ensure our discussion guide addresses each of the session goals. Unlike quantitative research, our results are subjective, so it is critical that we listen, evaluate, and report responses in an unbiased manner throughout the research process.
Tell us about a time when a powerful story told in a session you were moderating made a difference to the project's outcome?
While evaluating the advertising strategy for a new consumer product, some of the imagery and language in the proposed campaign were perceived by the panelists as negative and even derogatory. This feedback from consumers helped the advertising agency and product team avoid a potentially critical error in the launch of the new product.
Read a recent blog on understanding preferences of new and expecting mothers.
Reach out to find out more about our immersive insights approaches.